East Coast 2:
Frets and Friends in Ithaca, NY
In the Spring of 1999, members of the acoustic guitarists' newsgroup RMMGA gathered in Virginia to finally put some faces to names (or rather, email addresses!), and to share music, instruments, food, and friendship. Splendidly organized by RMMGA regular Shannon "CraftyGirl" Lambert, the gathering was dubbed "EC1" in the hopes that other such gatherings would follow. EC1 was such a huge success that there was quickly a clamor for EC2.
Late the following Summer, I offered to organize EC2, to take place in or near the city of Ithaca in the Finger Lakes region of upstate New York. This web page tells the story of EC2 in words and pictures (if you have a newish browser, you can click on many of the pictures to get larger versions in a popup window; they'll look even better if you save them to your hard drive and view them with a dedicated image viewer, like JPEGView on the Mac). It's a story of potential dissapointments and disasters turned to opportunities.
About 20 people initially expressed interest in an Autumn gathering, but finding a date that would work for the majority proved difficult. We finally settled on Friday and Saturday, September 24 and 25. About a dozen guitarists hoped to attend, but in the two weeks before the event, an uncanny convergence of events ranging from work conflicts to medical emergencies whittled the number down almost daily. I began to wonder if I'd be "gathering" alone!
Thankfully, I wasn't alone---Bob Dorgan and his wife Theresa, Rod Hughes, and Dick Thaxter survived the whittling, hotel rooms were located despite it being a weekend crowded with local college activities, and EC2 was set to go! Bob, Theresa, and Dick were EC1 veterans; I think wanting to be able one day to say they attended all the EC gatherings may have helped keep them in the ranks! The small size of our group could have been a source of disappointment, but we discovered it to be a disguised blessing, as you'll see.
Rod and Dick showed up at my apartment Friday evening. We had a great dinner together at a local Thai restaurant reputed to be one of the best in the whole state; it's a personal favorite eatery for me, but the company made it even better! Afterwards, we headed back to my apartment, dug out our guitars, and went into action.
There was a bit of what had happened at EC1, with each of us playing something for the others round-robin style. Besides his acoustic, Dick had brought his resonator and his G&L electric. We quickly forgave Dick about the electric (!), as he revealed himself to be a major groovemaster, especially on the G&L. Rod kept talking about how much of a beginner he is---just before he'd lay down some really cool lead or strike up some great folk-rock rhythms. I threw a couple fingerstyle Celtic tunes into the mix.
But most of the evening we spent playing together. I had lined up two performance opportunities for Saturday, originally intending them to be in an "open mic" format. But we quickly came to an unspoken consensus that we'd use most of the performance time to play as a group. Friday night thus became a rehearsal night!
We worked up a repertoire drawn largely from Dick's musical memory and from a book of chords and lyrics for folk/pop tunes compiled by my friend Josh Pincus and humorously titled Shut Up Singing! (Hard-core folkies who own the Sing Out! songbook will get the joke!) I also threw in a folk anthem from Ellis Paul, a favorite contemporary folk artist. Here's most of what we came up with:
Johnny too bad
Friend of the devil
Melissa
Brown eyed girl
I've just seen a face
3000 miles
The weight
Jersey girl
Peaceful easy feeling
Margueritaville
For what it's worth
Mocking bird
Folsum River blues
Bob Dorgan supplemented the list a bit on Saturday.
Saturday morning Rod, Dick and I met for breakfast at a local diner, and then headed downtown to visit two notable local music stores, Ithaca Guitar Works (with an impressive collecton of mostly new instruments, including the electro-acoustic instruments of local luthier Eric Aceto) and Rumble Seat Music (used guitars, amps, mandolins, banjos, including an amazing number of old Silvertones and Danelectros). Then we headed just south of Ithaca to the town of Newfield for our first performance opportunity.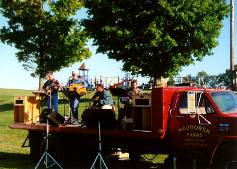 Rod, Mike, Bob and Dick on the "festival stage"---the bed of a truck!
My great friend and bandmate Mike Allinger helps organize Newfield's local smalltown festival every fall, and we scheduled EC2 in part to coincide with the festival. It's called Old Home Days, and Mike got us time on the "festival stage." We arrived to find a bit of a disaster: the main generator had blown, so all the rides were shut down. As you might imagine, this sure had an effect on the child attendance! On the other hand, it made it a lot quieter for the music, and the folks who did stay around hung out near the music and food area. Fortunately, the stage and vendors drew power from the local utility lines. Bob and Theresa Dorgan arrived just in time to hit the stage. So we got out the instruments, did a very quick soundcheck, briefed Bob and Mike on our repertoire, and let the music begin! I'll let the photos tell the rest of this part of the story. Oh, and did I mention that the weather was picture perfect? Well, you can probably tell that from the pictures!
| | |
| --- | --- |
| | |
| Mike and Bob under a gorgeous September sky Saturday afternoon. Mike got us the Old Home Days gig. | Rod makes his stage debut---admirably! That's stage veteran Mike to his right. |
| | |
| --- | --- |
| | |
| Groovemaster Dick, laying down another hot groove with his special-edition G&L electric. | Bob, bending to the floor on his Goodall. He sure knows how to grab a G-string! That's Mike and Dick, staying clear lest it snap! |
| | |
| --- | --- |
| | |
| Mike, Bob and Dick, treating the crowd to instrumental and vocal harmony. | It turned out that Dick really can play an acoustic guitar. With a slide, no less. And singing at the same time! |
| | |
| --- | --- |
| | |
| Besides his Goodall 6-string, Bob also treated us to the tones of his Breedlove 12-string. This guitar has a gorgeous amplified tone . | Rod, Mike, Bob, and Dick, banding together under the Newfield sky. The beloved host is hiding behind the camera! |
Look again at the photos of Rod and Dick. They look cool as cucumbers, don't they? Well, it turns out this was the first "real" playing-out gig for both of them. They were great! We all sounded pretty good together, and I was especially amazed at how well Rod and Dick played---not the least sign of first-gig nerves. Dick actually led quite a few of our band numbers. After a set of us all playing together as a band, the RMMGA gang let Mike and I do a few of our duo tunes (including one or two of Mike's originals); Bob and Dick each also did some solo work. We couldn't get Rod to play solo, which is a good thing because I think he would have humbled us all!
We helped Mike with the load-out after our afternoon set, enjoyed a pizza dinner downtown, and then headed to Collegetown (the part of Ithaca near Cornell University) for our next gig (yup, two gigs in one day!). In the summer, Mike and I play almost weekly at a coffeehouse called Collegetown Bagels, and the owners graciously let me book an Acoustic Guitar Showcase for EC2 there Saturday night. Another minor disaster greated us there, however: for the first time in my recollection, they accidentally double-booked the night! An out-of-town blues player was scheduled. But this turned out to be another disaster-become-opportunity. We traded sets with the bluesman over the next three hours or so, the staff gave us all free food and drinks to make up for the mishap, and we had some great time to chat with each other between sets (and warm up---it was a cool early-autumn night and we were playing on the patio!).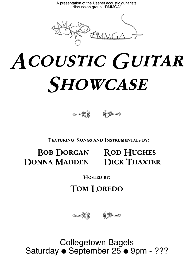 The poster for the "Showcase." Donna had to cancel at the last minute---we missed you, Donna!
(I stole the cool graphics from Susan Jurist!)
| | |
| --- | --- |
| | |
| Rod, Bob, and Dick burning it up under the Christmas lights on the CTB patio. Standing in for me are my racks of PA gear and effects! | Rod and Bob as a duo, one of the many impromptu collaborations formed in the course of our EC2 gigs together. |
As with the Old Home Days gig, we mostly worked as an impromptu band, but allowed each other a few more opportunities to solo. The gang indulged me in an improvised looping excursion with my Lexicon JamMan, Dick pulled out a few cool country tunes for the college crowd, and we all finally got to hear Bob's justifiably famous version of Minnie Ripperton's "Loving you," as well as a lovely instrumental he wrote. We ended our last set with a rousing performance of what had become a kind of theme song for our pick-up band, Ellis Paul's "3000 Miles." We posed for a band photo (thanks, Theresa!), posed our guitars for an instrument shot (they're what brought us together after all), the gang helped with the load-out, and we parted company, no longer strangers, but friends and bandmates.
Thinking back on the event the following Sunday, I was amazed and pleased at how each potential disaster had turned out for good. The dead generator gave us a quiet performance area. The double-booking gave us time to build friendships (and to warm up!). And most of all, as Rod pointed out to us Saturday night, our small number let us turn the weekend into more of a collaborative effort than it might otherwise have been. We'd become a band. Gentlemen, it was an honor sharing the stage with you!
The reasons for the gathering (no, not the munchies or the Labatt's in the background!): Bob's Breedlove and Goodall, my Olson, Rod's Martin, and Dick's Seagull, G&L, and resonator (on the floor).

A band of friends: Bob Dorgan, Tom Loredo (in front of the camera for a change!), Rod Hughes, and Dick Thaxter---EC2.
(Photo by Theresa Dorgan---Thanks, Theresa!)
Following EC2, Rod, Bob, and Dick each posted their own recollections of the event to RMMGA. You can read their recaps here:
As of this writing, EC3 is imminent, impecabbly planned by Shannon to take place in Virginia the weekend of May 13, 2000. If the weekend isn't over, there's still time for you to make it! Drop by Shannon's RMMGA East web page or join the RMMGA-EAST email list at eGroups to find out more. If EC3 is over, well, drop by RMMGA and help get the next East Coast Gathering in motion!
Thanks for reading, folks. See you on RMMGA!
Peace,
Tom Loredo